Nature 561, 295-296 (2018),   doi: 10.1038/d41586-018-06678-6
"Women are inadequately represented as peer reviewers, journal editors and last authors of studies, according to an analysis of manuscript submissions to an influential biomedical journal.
The study looked at all submissions made to the open-access title eLife from its launch in 2012 to 2017 — nearly 24,000 in total. It found that women worldwide, and researchers outside North America and Europe, were less likely to be peer reviewers, editors and last authors. The paper — which hasn't itself yet been peer-reviewed — was posted on the preprint server bioRxiv1 on 29 August."
"About 7,000 of the submitted studies went through the full submission process (at eLife, authors make a 'pre-submission query' before being invited by the journal to send a full paper — a relatively uncommon practice among journals). In all, the analysis covered the activity of about 7,000 referees, 890 reviewing editors and 57 senior editors.
The researchers found that women make up only around 20% of peer reviewers, and around one in four reviewing editors (see 'Peer-review patterns'). Most reviewing editors and reviewers were in the United States — 62% and 56%, respectively — followed by the United Kingdom and Germany in second and third place. Less than 2% of peer reviewers were in developing nations — all in China, India or South Africa………………."
Peer review fails equity test Analysis of submissions to eLife reveals a gender gap in whom journals invite to do reviews,
by Dalmeet Singh Chawla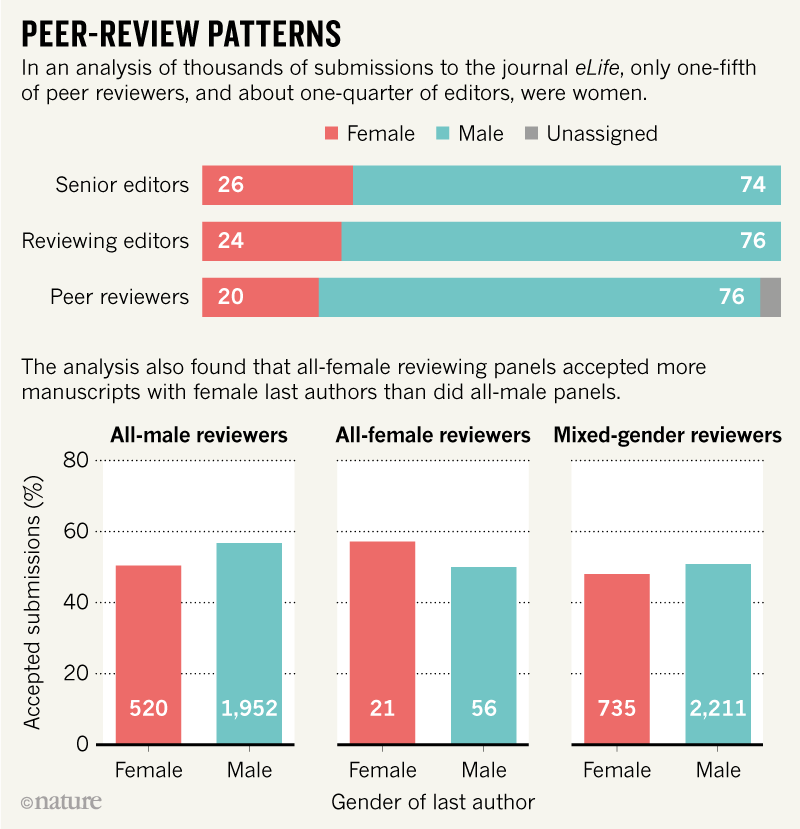 BY DALMEET SINGH CHAWLA
pdf click here